Wreaths Across America
REMEMBER our fallen U.S. veterans. HONOR those who serve. TEACH your children the value of freedom.
Taylor Division spent the morning and afternoon at Delaware's Veterans Memorial Cemetery1 to participate in the annual Wreaths Across America Day2 memorial.
6,482 Wreaths Sponsored3 - hoping we can all help achieve the bigger goal of attaining 100% coverage of the 20,000+ veterans laid to rest at this memorial cemetery.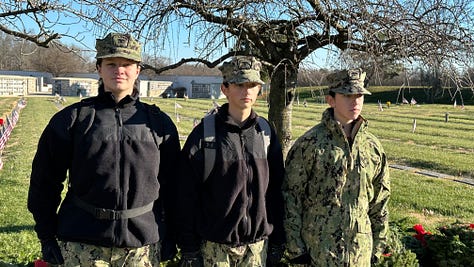 REMEMBER
our fallen U.S. veterans.
HONOR
those who serve.
TEACH
your children the value of freedom.
2
Each December on National Wreaths Across America Day, our mission to Remember, Honor and Teach is carried out by coordinating wreath-laying ceremonies at Arlington National Cemetery, as well as at more than 3,400 additional locations in all 50 U.S. states, at sea and abroad.
https://www.wreathsacrossamerica.org
3
6,482 Wreaths Sponsored
38.1% to Goal
10,518 To Go!
That's 17,000, but speakers noted the total is 20,000+.